How Hippocampos Dive Center started his life….
Diving was not allowed in Greece by the department of underwater-Archeology. Scuba-diving for pleasure was prohibited.
The dream to open a commercial Diving Center could not come true because of the Greek law on Diving….
The dream came back to life in 1993, when the first dive sites opened and the laws on Diving changed. With the boundless help and encouragement of Michel Baudet the idea of Hippocampos became a reality. Michel, who worked for the French Institute of Petrol and Motors (IFP)created the possibility to start.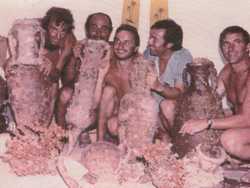 A few diving courses in Normandy, France, the first equipment that we brought by car to Crete and …..we were up and running! There were many difficulties and big problems in the beginning. But with the enthusiasm and the love for the underwater world and scuba diving, all problems would be solved.
Next to Angelos was the active and unfatigued Corinne and the friendly and in many respects unique instructor Philippe Le Jeannic. With enthousiasm and professionalism they achieved to build and more than this, to keep, a corporal identity based on the philosophy of Hippocampos: "Professionalism, Safety, Comfort and Quality".
All the guests of Hippocampos appreciate this a lot. The owners and the team of the Diving center want to thank all our guest and especially those, Divers and no-Divers, who come back to Hippocampos several times, to have an unforgettable time with us; You are the reason we continue to work with pleasure….
At this time Hippocampos is getting bigger and has improved, is more organized, we speak more languages (French, German, English,Dutch, Greek,…) but we are still like we were before : Friendly, Warm and of course we keep the same moto: "Professionalism, Safety, Comfort and Quality". A team of responsible professionals, experienced and friendly instructors who love to share the fun and excitement of Scuba Diving with all of you: The Friends of the aquatic life An unforgettable experience possible for the whole family as everyone from 8 till 88 years old, with or without knowledge of Scuba diving, can now participate in our different diving programs!

Don't pass by the chance for this unequivalent experience during your holiday!
Get more information now and participate in a dive. Soon you will understand what we mean.
Immediately you will not be a stranger anymore but a part of the " Big family of Hippocampos".
Have a nice Dive….
do you have children 8-10 years old?
we can offer them an unforgettable underwater experience
Have you always wanted to try Scuba Diving…..? Discover the under-water magic world?
Hippocampos Bali Dive Center will make your dream come true!